Celebrate the flavors of autumn with this chef-curated spice collection.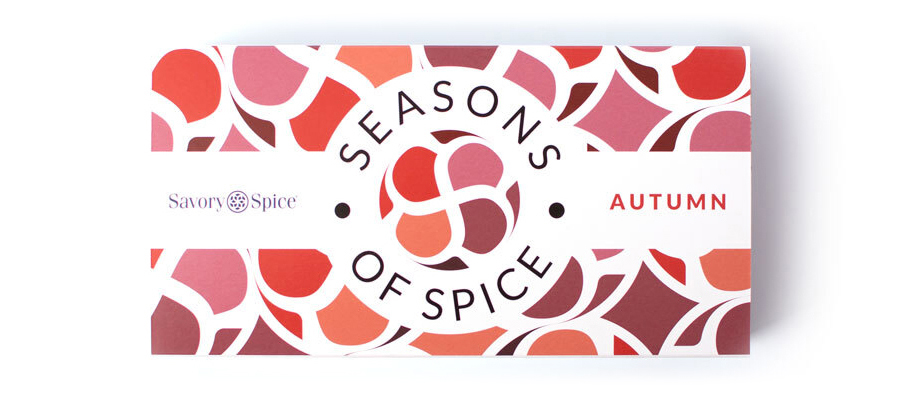 What's in this season's box?
Spiced Apple Bake
This sweet blend of baking spices like cinnamon, cloves, and allspice is perfect for apples.
Quick Uses: This dish is sweet and savory, so it can be dessert, breakfast, or a side for roasts, pork chops, and ham. As we say in the tagline, "you bake the call."
A classic blend of herbs and spices that is ideal for any type of poultry. Once you've tried this blend, you're going to want to keep it as your secret ingredient.
Quick Uses: Rub on poultry, pork, or lamb. For stuffing or croutons, add 1 tsp. per cup. Try on roasted potatoes or add to cream-based soups.
Recipes:
Although there are many variations on Chicken Tikka Masala, our blend is designed to add sweet-spiced complexity to this rich and creamy, tomato-based dish.
Quick Uses: For curry paste, mix equal parts spice, oil, and water. Try with chicken and lamb or mix into other sauces for a flavor boost.
Recipes:
We slow-smoke cracked peppercorns using oak staves from whiskey barrels for a pleasing, smoky aroma and flavor.
Quick Uses: Great for adding a hint of smokiness to meats and vegetables when slow smoking or barbecuing isn't an option. Sprinkle over salads, soups, stews and more.
Recipes:
This classic, sweet-spiced blend is quintessentially fall. There is no need to limit this blend to pumpkin pies exclusively, you can also use it to spice up chili, soup, and other savory recipes.
Quick Uses: Use about 3 tsp. for a 9-inch pumpkin pie. Try in zucchini bread, carrot cake, or muffins. Sprinkle on French toast or in pancake batter.
Recipes: