Celebrate the flavors of winter with this chef-curated spice collection.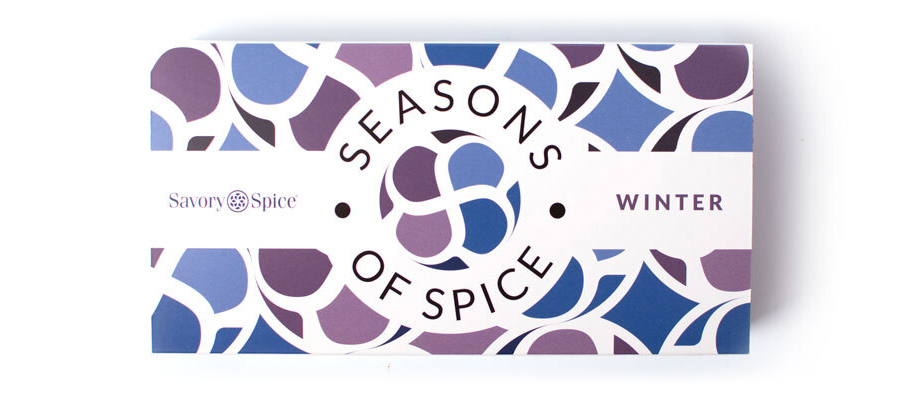 The seasonings in this season's box are inspired by popular drinks - but are great for cooking with!
The perfect blend of orange and spice flavors plus the chocolate you know you're craving, this makes 2 mug cakes.
Quick Uses: For a decadent dessert, garnish with sliced fruit, powdered sugar, whipped cream, and/or ice cream.
Inspired by the complex layers of chai spice, this seasoning is blended with cinnamon, ginger, cardamom, black pepper, anise, and allspice. Use it to bring the sweet spices of chai to your baked goods or savory dishes.
Quick Uses: Add 1-2 t to baked goods or desserts including muffins, cakes, ice cream, and more. It can also be used to flavor savory dishes like pork chops.
Recipes:
The robust flavor of coffee has long been enjoyed as a morning wake up, but is increasingly being used as a culinary ingredient.
Quick Uses: Perfect for steaks, burgers, or pork. Also great as a flavor addition for BBQ sauce, red eye gravy, and other sauces.
Recipes:
Spice blends don't need to be complex to have a big flavor impact.This classic, sugar-based mix includes two types of cinnamon for that familiar flavor with added depth.
Quick Uses: Ideal for that childhood favorite, toast. Shake on cookies, donuts, muffins, or pies before baking. Top fruit, oatmeal, pancakes, or waffles.
Recipes:
This rich mix is sweetened and chocolatey, with creamy vanilla notes.
Quick Uses: Just add water or milk for rich, creamy hot cocoa. We suggest topping with whipped cream or marshmallows for the ultimate winter treat.
Madagascar vanilla beans are the ones commonly called for in most recipes. These whole beans are rich and creamy and pair well with cardamom, cinnamon, and saffron.
Quick Uses: Flavor ice cream, and baked goods. Try with certain savory dishes like lobster and veal. Never refrigerate or freeze.
Recipes: