Select Size:
Medium Jar - $3.65
(Per Ounce Cost: $8.11)
Large Jar - $7.25
(Per Ounce Cost: $5.18)
1/2 Cup Bag - $2.80
Bag Size: 7" x 4.25"
(Per Ounce Cost: $6.23)
1 Cup Bag - $4.50
Bag Size: 7" x 4.25"
(Per Ounce Cost: $5.30)
2 Cup Bag - $7.10
Bag Size: 9" x 6"
(Per Ounce Cost: $4.17)
Details
This sweet California basil is widely considered the best dried basil available mostly due to the advanced dehydration process. We carry two varieties: California and imported European. Basil is native to Asia where it has been cultivated for over 3,000 years.
A man taking basil from a woman will always love her.
The flavor of basil combines best with tomatoes and garlic, which is the start of a great sauce. It also works well with cilantro, marjoram, oregano and most other green herbs. Basil is great in pasta, with any fish, in omelets and sausages.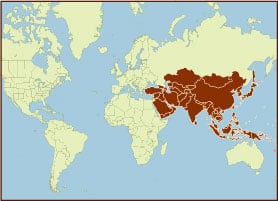 Basil is native to Asia
Dietary Information
Salt-Free
Sugar-Free
Gluten-Free
Nut-Free
Vegetarian
Vegan
MSG-Free
Dairy-Free
Garlic-Free
Onion-Free
Sweetener-Free
Black Pepper-Free
Capsicum-Free
Corn-Free
Flavor of California Basil
This warm, sweet herb has anise notes and pairs well with chives, cilantro, marjoram, parsley, and oregano.
Uses of California Basil
Combine with tomatoes and garlic for a simple sauce. Flavor pasta, fish, and omelets. When substituting dry herbs for fresh, use 1/3 of the amount specified.
California Basil Recipe
For 4-5 T of mix: Blend 2 T dried basil with 1 T dried thyme and oregano, and 1 t dried minced garlic
---
Frequently Purchased with California Basil