We're sorry, this product has been discontinued. You can browse our other products here.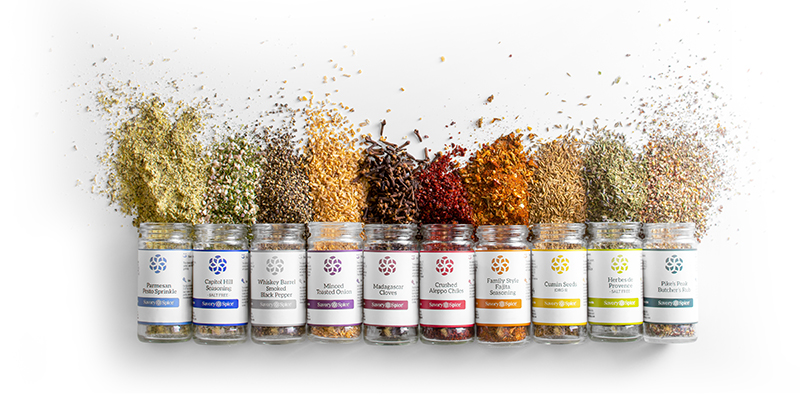 San Andreas Achiote Rub
Indigenous to South America, the annatto in this blend pays homage to the rich Latino culinary influences that exist all throughout Southern California. Latin American cuisine often uses annatto as a replacement for saffron in Spanish-inspired dishes.

Notice: Undefined variable: description2 in /var/www/live/sitefiles/mercury/cart/display/elements/2021/descriptions.php on line 9
xxx
Read More
In addition to being colorful, this handcrafted blend is the perfect balance of sweet, savory, and spicy. Use as a rub for various meats including pork, chicken, and steak. Also try on scallops, fish, and vegetables.
Sorry, item is out of stock
---
Dietary Information
Gluten-Free
Nut-Free
Vegetarian
Vegan
MSG-Free
Dairy-Free
Onion-Free
Corn-Free
---
Flavor of San Andreas Achiote Rub
This sweet & salty rub is bittersweet and peppery with herbal, garlic, and cinnamon notes.
Uses of San Andreas Achiote Rub
Rub on pork, chicken, and steak. Try on scallops, fish, and vegetables. Visit website for achiote rubbed chicken taco recipe.
Ingredients
Salt, annatto, sugar, black pepper, Mediterranean thyme, granulated garlic, crushed red pepper, Saigon cinnamon
Spice Tips!
More Uses:
Seared Scallop Pan Sauce: After searing scallops, add one minced shallot and 2 tsp. San Andreas Achiote Rub and toast for 2 min. Add 1 cup white wine, scraping any brown bits off the bottom of the pan, and reduce until you can draw a line through the sauce. Finish off the heat by melting in a few pats of butter and serve over scallops.
Persian Rice with Annatto Tahdig: Cook 2 cups basmati rice until al dente. Mix 1 cup partially cooked rice with 1 Tbsp. San Andreas Achiote Rub and 1/4 cup yogurt. Spread yogurt rice mixture in the bottom of a large, hot, buttered skillet. Top with remaining rice and cook on medium-high for 8 minutes. Cover and cook on lowest heat for 45 min. Overturn skillet onto serving platter and serve immediately.
---
Frequently Purchased Together
San Andreas Achiote Rub Reviews