Ground Rosemary (Organically Sourced)
Select Size:
Medium Jar - $4.75
(Per Ounce Cost: $4.13)
1/2 Cup Bag - $3.60
Bag Size: 7" x 4.25"
(Per Ounce Cost: $3.13)
1 Cup Bag - $8.90
Bag Size: 7" x 4.25"
(Per Ounce Cost: $3.56)
Details
Rosemary is an herb from the mint family and is the pine needle-like one inch leaves off of a small evergreen shrub. It is native to the Mediterranean but is now being largely produced in France, Spain and Portugal.
In the Middle Ages, rosemary was burned at weddings as incense and used by judges to ward off illness brought by prisoners.
Rosemary has a piney flavor and a tea like aroma that pairs well with lamb, pork, chicken and rabbit. Ground, it is used most commonly in sauces, soups and baking savory dishes such as muffins or corn bread. As most ground spices do, rosemary seems to lose its flavor quickly. But as we grind our spices weekly, you are assured freshness.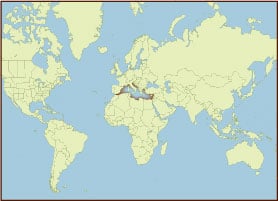 Rosemary is native to the Mediterranean.
Dietary Information
Salt-Free
Sugar-Free
Gluten-Free
Organically Sourced
Nut-Free
Vegetarian
Vegan
MSG-Free
Dairy-Free
Garlic-Free
Onion-Free
Sweetener-Free
Black Pepper-Free
Capsicum-Free
Corn-Free
What is Organically Sourced?

Products with the "Organically Sourced" designation have been grown and cleaned organically. Once these products are received by our warehouse in Denver and opened to be repackaged into Savory Spice jars, they no longer qualify as organically certified, but the methods for producing them are in line with organic standards. Products that are Organically Sourced will include "ORG-S" on the front of the label.
Flavor of Ground Rosemary (Organically Sourced)
This herb is piney with a tea like aroma and pairs well with chives, garlic, lavender, oregano, and thyme.
Uses of Ground Rosemary (Organically Sourced)
Season potatoes, lamb, chicken, pork, rabbit, sauces, and soups. Try in savory baked goods like cornbread. When substituting dry herbs for fresh, use 1/3 of the amount specified.
Ground Rosemary (Organically Sourced) Recipe
For 3 T of mix: Blend 1 T rubbed sage with 2 t dried thyme, 1 1/2 t dried marjoram, 1 t dried ground rosemary, and 3/4 t ground nutmeg and pepper
---
Frequently Purchased with Ground Rosemary (Organically Sourced)
Ground Rosemary (Organically Sourced) Reviews