Select Size:
1 Cup Bag - $11.99
Bag Size: 7" x 4.25"
(Per Ounce Cost: $2.66)
2 Cup Bag - $21.99
Bag Size: 9" x 6"
(Per Ounce Cost: $2.44)
3 Cup Bag - $26.99
Bag Size: 9" x 6"
(Per Ounce Cost: $2.00)
Details
This cocoa powder has been alkalized to the extreme, producing a dark, purplish black cocoa that makes for an impressive black-as-coal baked good. This extreme alkalization neutralizes the natural bitterness, removing some of its chocolate flavor and a lot of its butter fat(10-12%).
"All you need is love. But a little chocolate now and then doesn't hurt." -Charles M. Schulz
We recommend replacing 25-50% of the standard "Dutch" cocoa in a recipe with black onyx. Using this ratio will produce darker, rich tasting baked goods without losing the moisture. If still too dry, you can increase the fat content by adding more shortening, butter, egg yolk or changing to a heavier milk; whichever applies to your particular recipe. The fat content of Black Onxy Cocoa Powder is 10-12%.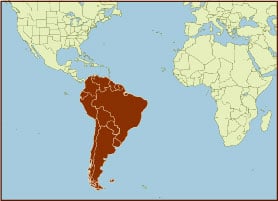 Cocoa powder comes from beans that grow in pods on the Theobroma cacao tree, which is native to many South American countries.
Dietary Information
Salt-Free
Sugar-Free
Gluten-Free
Nut-Free
Vegetarian
Vegan
MSG-Free
Dairy-Free
Garlic-Free
Onion-Free
Sweetener-Free
Black Pepper-Free
Capsicum-Free
Corn-Free
Flavor of Black Onyx Cocoa Powder
This dark cocoa has rich chocolate flavor and a lower fat percentage than normal baking cocoas and pairs well with cinnamon.
Uses of Black Onyx Cocoa Powder
Add to cakes, brownies, cookies, and more for darker, rich baked goods. Suggested use is a 25-50% mixture with natural or Dutch cocoa.
Black Onyx Cocoa Powder Recipe
For 3-4 T of mix: Blend 1 T cocoa, espresso powder, and kosher salt with 1 t pepper and sugar
---
Frequently Purchased with Black Onyx Cocoa Powder
Black Onyx Cocoa Powder Reviews