Listen Up Folks, There's No Bourbon in This Bourbon Chicken
You may have noticed the quippy little taglines featured on each of our Spice 'n Easy packages. If you haven't, consider being a little more observant in your day-to-day life because you're missing out on some choice food puns. I mean, come on. "Soup, there it is!"? Classic. Most are intended to entertain (or at least mildly amuse), but they can also serve to inform or highlight a special ingredient or characteristic of a dish. For example, the "Soup, there it is!" tagline really drives home that our Toasty Tomato Bisque is literally soup.
Bourbon Chicken. A Spice 'n Easy with a sweet personality and a smoky past. Also, a misleading name because spoiler: there is no bourbon in it. *Woman sitting in the front row of my TED talk raises hand* "Then why is it called Bourbon chicken?" Good question, Mary. Prepare yourself for some name-ception.
Bourbon chicken is named after Bourbon Street in New Orleans, which was named after France's ruling family in 1721, the House of Bourbon, who were named after the historic French province, Bourbonnais, which is also a great name for a product idea I had just now: bourbon and mayonnaise!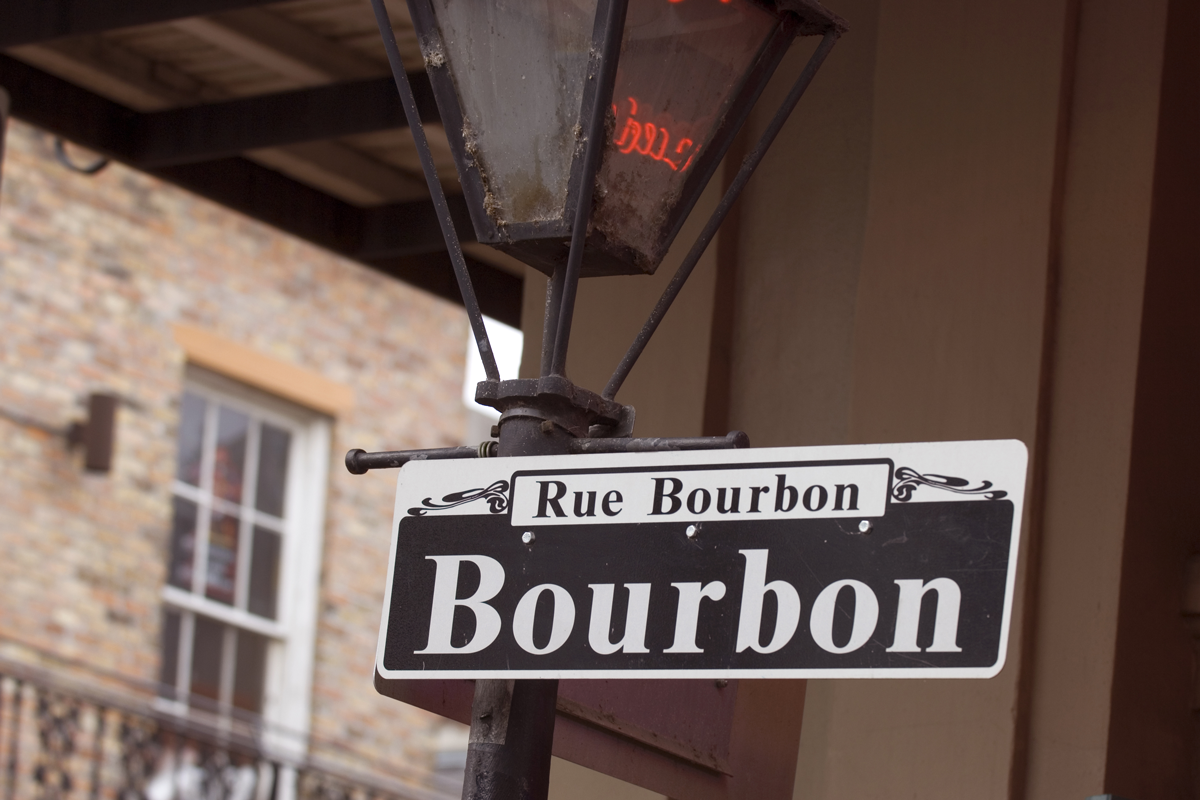 Bourbon Street Marker. Photo Credit: https://www.frenchquarter.com/bourbon-street/
That being said, some recipes for Bourbon chicken do call for bourbon. Good for them. As a potentially costly and polarizing ingredient, especially for those with kiddos, we chose to forgo the spirits after rigorous recipe testing and customer polling. Add a splash of bourbon if you like, but we (and our trusted recipe testers) think it tastes great as is. Now let's focus on the textured history and tempting flavor of this classic dish.
What is Bourbon Chicken?
Bourbon Street, in the heart of the historic French Quarter, is known for its colorful night-life, celebrated restaurants, live jazz, and legendary parties. It was here, legend says, that a Chinese chef developed a sticky, sweet, and smoky sauced chicken that blended Asian flavor favorites like ginger and sesame with classic Cajun characters like white and black pepper, tomatoes, and garlic. Add a touch of honey sweetness and hickory smoke and you have Savory's elevated take on the fusion cuisine that is currently being sampled at a mall food court near you.
Have you ever been offered a free sample of Bourbon chicken while minding your own dang business in a mall food court? So have about 50% of the people I polled while standing in line at Starbucks this morning (who were also minding their own business). The reason it's used for samples? It's addictive. This bourbon chicken is, "Like a food court in your kitchen." Can we suggest that you satisfy your mall food court cravings at home. In your pajamas.
But don't stop there...Bourbon Chicken Spice 'n Easy recipe mix can spawn a thousand take-out dreams (or at least 2). Turn one takeout favorite into another by adding sweet orange flavor to our Bourbon Chicken Spice 'n Easy! *Poof* Like magic, you have a homemade version of Orange Chicken. For a true take-out experience, we suggest serving with fried rice and a side of steamed veggies.
Have you made our Bourbon Chicken? Please submit a review (especially if your family loved it!)