Cracked Rosemary (Organically Sourced)
Out of Stock
This item is currently out of stock.

Enter your email to be notified when it's back in.

This item is currently out of stock.

Click to be notified at my account email when it's back in.

Details
Rosemary is an herb from the mint family and is the pine needle-like one inch leaves off of a small evergreen shrub. It is native to the Mediterranean but is now being largely produced in France, Spain and Portugal.
"Where Rosemary flourished, the woman ruled." - Unknown
Rosemary has a piney flavor and a tea like aroma that pairs well with lamb, pork, chicken and rabbit. Our cracked rosemary is broken down to 1/4 inch pieces to more easily release flavor. The cracked variety is perfect for roasted applications.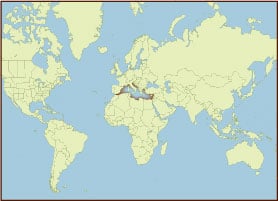 Rosemary is native to the Mediterranean.
Dietary Information
Salt-Free
Sugar-Free
Gluten-Free
Organically Sourced
Nut-Free
Vegetarian
Vegan
MSG-Free
Dairy-Free
Garlic-Free
Onion-Free
Sweetener-Free
Black Pepper-Free
Capsicum-Free
Corn-Free
What is Organically Sourced?

Products with the "Organically Sourced" designation have been grown and cleaned organically. Once these products are received by our warehouse in Denver and opened to be repackaged into Savory Spice jars, they no longer qualify as organically certified, but the methods for producing them are in line with organic standards. Products that are Organically Sourced will include "ORG-S" on the front of the label.
Flavor of Cracked Rosemary (Organically Sourced)
This herb is piney with a tea like aroma and pairs well with chives, garlic, lavender, oregano, and thyme.
Uses of Cracked Rosemary (Organically Sourced)
Season potatoes, lamb, chicken, pork, rabbit, sauces, and soups. Ideal for roasting. When substituting dry herbs for fresh, use 1/3 of the amount specified.
Cracked Rosemary (Organically Sourced) Recipe
For 2-3 T of mix: Blend 1 T dried cracked rosemary with 1 1/2 t dried lemon peel, 1 t kosher salt, 3/4 t dried thyme, and 1/4 t dried garlic and pepper
---
Frequently Purchased with Cracked Rosemary (Organically Sourced)
Cracked Rosemary (Organically Sourced) Reviews