Select Size:
Medium Jar - $4.50
(Per Ounce Cost: $10.00)
1/2 Cup Bag - $3.65
Bag Size: 7" x 4.25"
(Per Ounce Cost: $8.12)
1 Cup Bag - $6.90
Bag Size: 7" x 4.25"
(Per Ounce Cost: $7.26)
Details
Native to the Mediterranean, lavender is mainly cultivated in France and England but grows all around the world. Lavender has a sweet, floral aroma with a hint of mint and citrus. The flavor matches that aroma with just a touch of bitterness.
"Lavender's blue, dilly dilly, lavender's green; When I am king, dilly dilly, you shall be queen." -'Lavender's Blue', from Mother Goose's Melody (Anon.), 1781
Lavender has uses both in the kitchen and in potpourris. Use lavender in desserts like cakes and ice cream or add as a unique flavor to vinaigrettes and marinades. Lavender can be rubbed on poultry before roasting for exquisite flavoring. We use lavender in our version of Herbes de Provence. Lavender is strong, so it is best to use a light hand.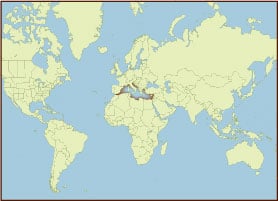 Lavender is native to the Mediterranean.
Dietary Information
Salt-Free
Sugar-Free
Gluten-Free
Nut-Free
Vegetarian
Vegan
MSG-Free
Dairy-Free
Garlic-Free
Onion-Free
Sweetener-Free
Black Pepper-Free
Capsicum-Free
Corn-Free
Flavor of Lavender
This flower is sweet with minty, citrusy, and bitter notes and pairs well with marjoram, oregano, parsley, and thyme.
Uses of Lavender
Add to cakes, ice cream, cookies, and fruit-based dishes. Try in vinaigrettes and marinades. Rub on poultry and lamb before roasting.
Lavender Recipe
For 4-5 T of mix: Crack 1 T fennel seeds and mix with 1 T dried savory and thyme, 1 1/2 t dried cracked rosemary and lavender, 1 t dried marjoram and basil, and 1/2 t dried tarragon
---
Frequently Purchased with Lavender